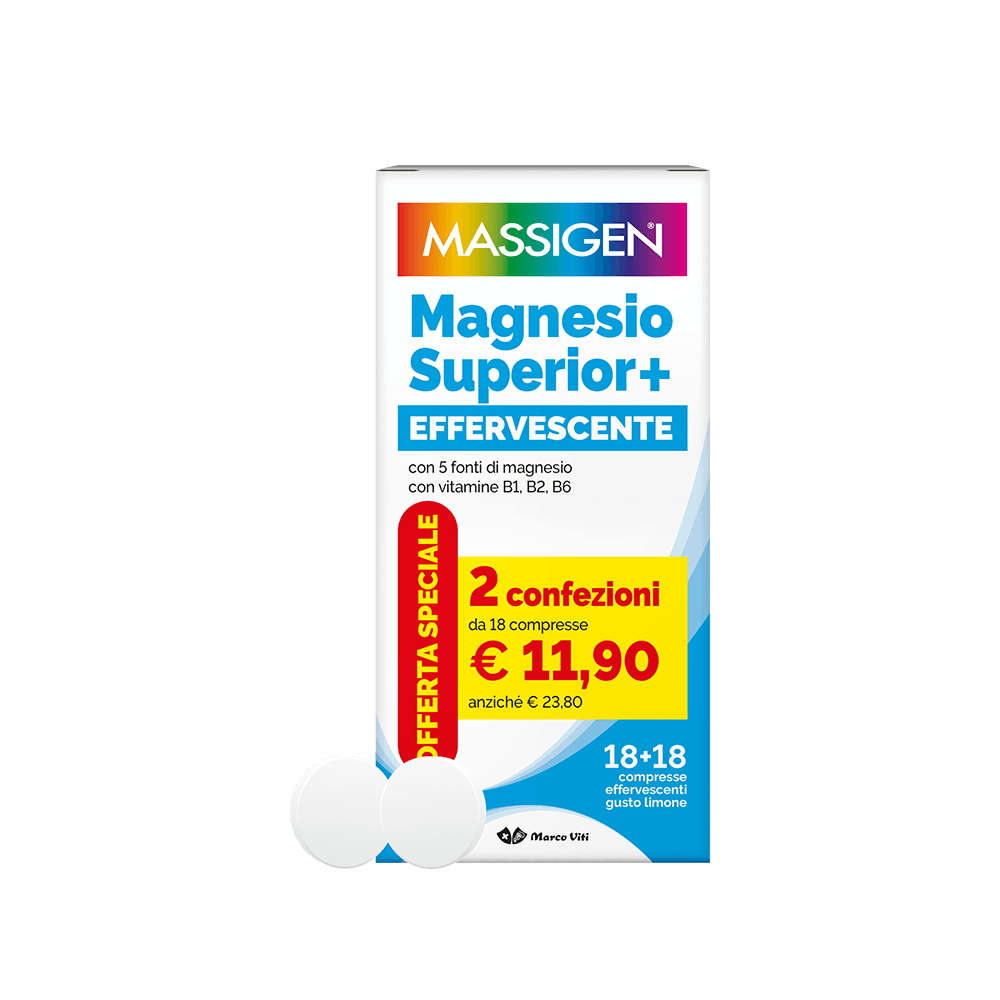 Magnesium Superior + Effervescent
Dietary supplement with 5 different magnesium salts and B vitamins.
  why?
With 5 salts: pidolate, gluconate, citrate, carbonate, oxide, to ensure full intake and gradual absorption. plus vitamins B1, B2 and B6 to support energy metabolism.
  content
Dietary supplement with sugar and sweeteners
36 effervescent tablets 4.5 g each
Total net weight 162 g ℮
2 PACKETS of 18 tablets for € 11.90 instead of € 23.80.
  without
GLUTEN FREE, LACTOSE FREE.
   benefits
Il magnesio favorisce la regolare funzione del sistema nervoso, il normale funzionamento del muscolo, contribuisce a bilanciare il metabolismo energetico ed elettrolitico. Le vitamine B1, B2 e B6 favoriscono il normale metabolismo alla base della produzione di energia della cellula.
  use
1 effervescent tablet per day to be dissolved in 150 ml of water.
   warning
Keep out of reach of children under three years of age. Do not exceed the recommended daily dose. Supplements should not be used as a substitute for a varied, balanced diet and healthy lifestyle.
Keep at room temperature of no more than 25°C in an airtight container away from damp and heat sources. Avoid exposure to local sources of heat, sunlight and contact with water. The expiry date refers to the product when properly stored, in unopened packet.
  nutrition facts
| AVERAGE CONTENTS | PER 100 G | PER 1 TABLET (DAILY DOSE) | %NRV |
| --- | --- | --- | --- |
| Magnesium | 8,7 g | 375 mg | 100% |
| Vitamin B1 | 32,6mg | 1,4 mg | 100% |
| Vitamin B2 | 25,6 mg | 1,1 mg | 100% |
| Vitamin B6 | 16,3 mg | 0,7 mg | 50% |
  ingredients
ACIDULANT: CITRIC ACID; ACIDITY REGULATOR: SODIUM BICARBONATE; MAGNESIUM CARBONATE; SUCROSE; MAGNESIUM OXIDE; AROMA; MAGNESIUM CITRATE; MAGNESIUM GLUCONATE; MAGNESIUM PIDOLATE; ANTI-CAKING AGENT: POLYETHYLENE GLYCOLS; SWEETENERS: ACE-SULFAME K, SUCRALOSE; PYRIDOXINE HYDROCHLORIDE (VITAMIN B6); THIAMINE HYDROCHLORIDE (VITAMIN B1); RIBOFLAVIN (VITAMIN B2).