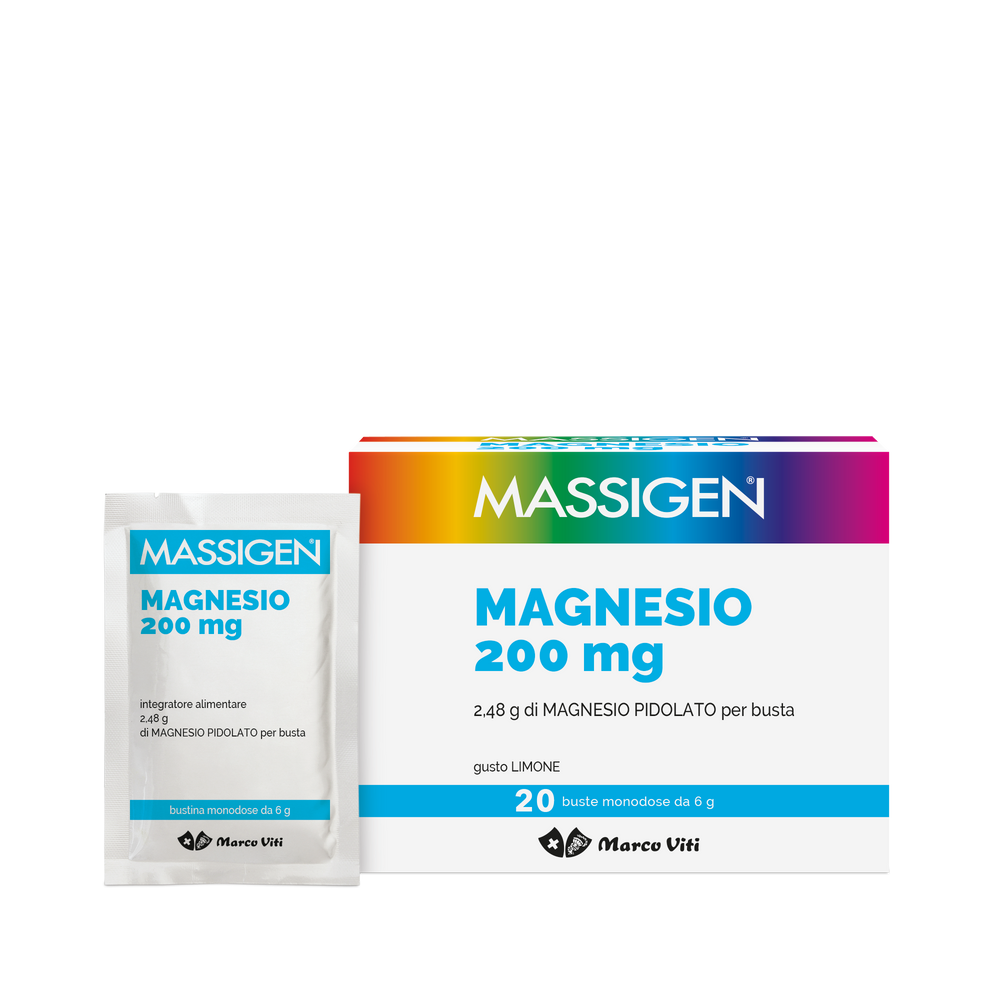 Magnesium
Dietary supplement containing Magnesium Pidolate.
Lemon flavour
  why?
Magnesium Pidolate has several advantages compared with salts of aspartate, chloride, carbonate and lactate, as it ensures: excellent intestinal absorption; maintenance of intracellular magnesium intake; swift action
  content
20 single dose 6 g sachets
Total net weight 120 g ℮
2.48 g of Magnesium Pidolate per sachet
  without
Gluten free and lactose free.
  use
Dissolve the contents of a sachet in a glass of hot water (about 150 ml) and drink immediately. We recommend taking 1-2 sachets a day, preferably in the evening.
   warning
If taking medicines containing tetracyclines or quinolones, take the product two hours before or five hours after taking these medicines.
Do not take along with vitamin D3 (cholecalciferol). Do not exceed the recommended daily dose. In pregnancy and breastfeeding Massigen Magnesium Pidolate should be used only after consulting your doctor and evaluating with him/her the risk-benefit ratio in your case. Consult your doctor if you think you are pregnant or want to conceive. Magnesium is considered compatible with breastfeeding. If taking over a long period or in the case of kidney problems, please consult your doctor.
Keep out of reach of children under three years of age. Supplements should not be used as a substitute for a varied, balanced diet and healthy lifestyle. Keep at room temperature. Avoid exposure to heat sources, sunlight and contact with water.
  nutrition facts
AVERAGE CONTENTS
PER 100 G
PER 1 SACHET DA 6 G
PER 2 SACHETS DA 6 G
% NRV (2 SACHETS)
Magnesium Pidolate of which Magnesium

41,4 g

3,35 g

2,48 g

200 mg

4,96 g

400 mg

106%
  ingredients
Sucrose; Magnesium L-Pidolate; Acidulant: Citric Acid; Aromas; Anti-Caking Agent: Silicon Dioxide; Sweetener: Sucralose; Emulsifier: E473.