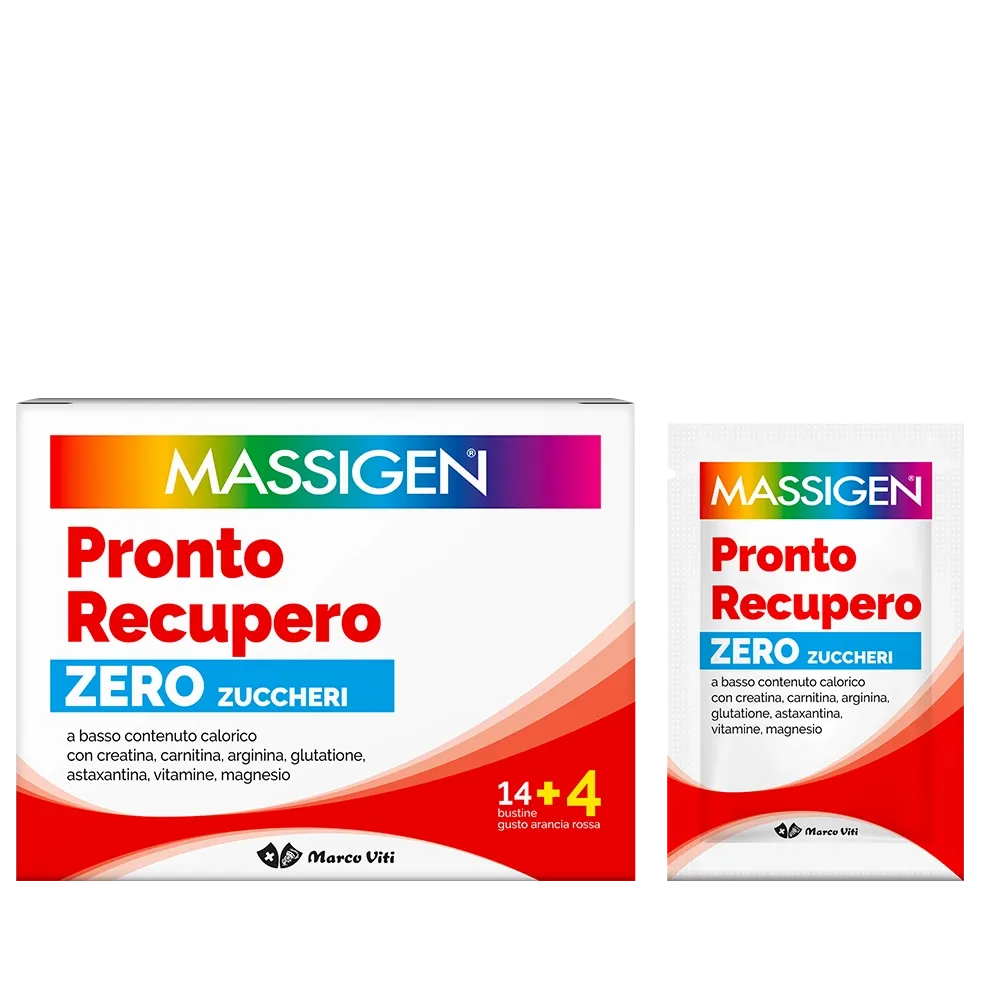 Quick Recovery Sugar Free
Dietary supplement, with sweetener, that provides a selected mix of substances including creatine, arginine and carnitine.
Blood orange flavour sachets.
  content
18 single dose 6 g sachets
Total net weight 108 g ℮
  without
GLUTEN FREE and LACTOSE FREE.
   when
The product is sugar-free and is ideal for those seeking a low-calorie supplement. As an energy tonic at changes of season. In convalescence. For the elderly and for sport.
   benefits
Vitamin B6 is important for protein and glycogen metabolism. Vitamin B1 helps to support energy metabolism, and aids regular psychological and cardiac functioning. Vitamin C, magnesium and iron help reduce tiredness and fatigue. Vitamin E is an anti-oxidant, helping to protect the cells from free radicals.
  use
We recommend taking 1-2 sachets daily. Dissolve the contents of 1 sachet in a glass of water (about 150 ml), mix and drink.
   warning
Do not exceed the recommended daily doses. If taking over a long period (more than 6-8 weeks) medical advice is required. Due to its creatine content, the product is intended for adults only. Do not use in pregnancy and in cases of kidney problems. Keep out of the reach of children under three years of age. Dietary supplements should not be used as a substitute for a varied, balanced diet and a healthy lifestyle. Keep at room temperature. Avoid exposure to local sources of heat, sunlight and contact with water. Excessive use can cause laxative effects.
  nutrition facts
AVERAGE CONTENTS
PER 100 G
PER 2 SACHETS 6 G
% NRV (2 SACHETS)

Energy

values

220 kCal

920,5 kJ

26,4 kCal

110,5 kJ

-
Creatine
25 g
3000 mg
-
Arginine
8,3 g
1000 mg
-
Magnesium
1,0 g
120,6 mg
32,20 %
Potassium
1,7 g
200,0 mg
-
Carnitine
0,8 g
100 mg
-
Glutathione
42 mg
5 mg
-
Vitamin C
0,7 g
80 mg
100%
Vitamin E
100 mg
12 mg
100%
Iron
0,1 mg
14 mg
100%
Astaxanthin
1,67 mg
0,2 mg
-
Vitamin B6
11,7 mg
1,4 mg
100%
Vitamin B1
9,2 mg
1,1 mg
100%
Vitamin B12
20,8 mcg
2,5 mcg
100%
Folic Acid
1,7 mg
200 mcg
100%
  ingredients
SWEETENER: ERYTHRITOL; CREATINE MONOHYDRATE; ARGININE ASPARTATE; MAGNESIUM CITRATE; ACIDULANT: CITRIC ACID; POTASSIUM CITRATE; AROMA; CARNITINE TARTRATE; FERROUS GLUCONATE;
ANTI-CAKING AGENT: SILICON DIOXIDE; VITAMIN C (L-ASCORBIC ACID);
SWEETENER: SUCRALOSE; VITAMIN E (DL-ALPHA TOCOPHERYL ACETATE); L-GLUTATHIONE; ASTAXANTHIN; VITAMIN B6 (PYRIDOXINE HYDROCHLORIDE); VITAMIN B1 (THIAMINE HYDROCHLORIDE); VITAMIN B12 (CYANOCOBALAMIN); VITAMIN B9 (FOLIC ACID).