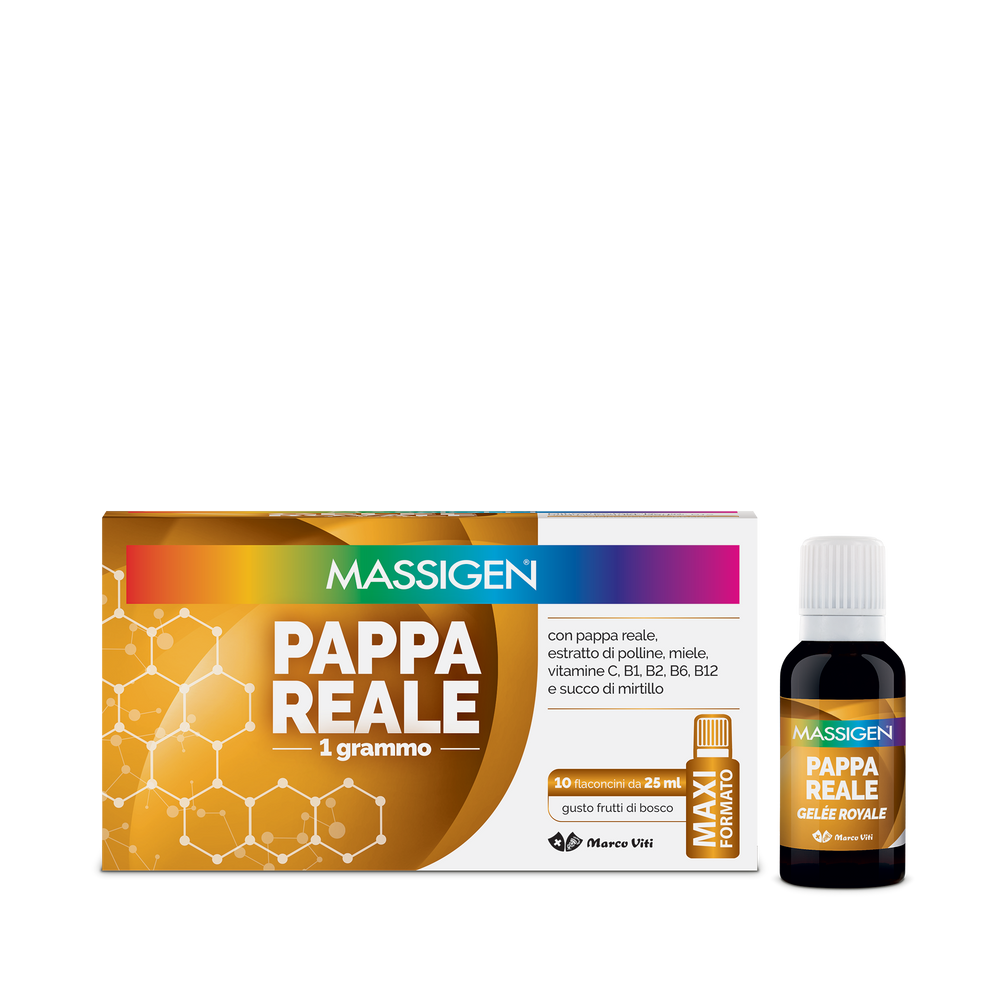 Massigen Royal Jelly
Dietary supplement with 1 gram of royal jelly, strictly controlled thanks to a series of chemical analyses to guarantee the absence of antibiotics and pesticides. Mixed berries flavour.
  why?
1 gram of Royal Jelly analytically controlled for heavy metals, pesticides, BSE, TSE; non-irradiation certification.
  content
Ten 25 ml bottles with reservoir cap. Total net content 250 ml ℮
  without
   when
It is recommended for loss of appetite, which can cause fatigue.Ideal for children and the elderly.
   benefits
The formula is enriched with extract of 1 gram of royal jelly, pollen, honey and vitamins B6 and B12 to combat tiredness and fatigue, B1 for normal psychological functioning and B2 for the nervous system.
  use
We recommend drinking 1 bottle a day on an empty stomach.
   warning
Do not exceed the recommended daily dose. Keep out of the reach of children under three years of age. Once the reservoir cap is open, shake thoroughly before drinking. Any deposit found is a natural characteristic of the product. We recommend storing the product in a cool place. Supplements should not be used as a substitute for a varied, balanced diet and healthy lifestyle. The expiry date refers to the product when properly stored, in unopened packet.
  nutrition facts
INGREDIENT
CONTENTS PER 100 ml OF PRODUCT

CONTENTS PER DAILY DOSE

(1 reconstituted bottle)

% NRV
Royal Jelly
4,0 g
1,0 g
-
Pollen Fluid Extract
0,4 g
0,1 g
-
Honey
4,0 g
1,0 g
-
Vitamin C
0,32 g
80 mg
100%
Vitamin B1
1,6 mg
0,4 mg
36%
Vitamin B2
2,0 mg
0,5 mg
36%
Vitamin B6
2,0 mg
0,5 mg
36%
Vitamin B12
3,6 µg
0,9 µg
36%
  ingredients
Reservoir cap: Maltodextrin; L-Ascorbic acid (Vitamin c); Anti-caking agents: Magnesium Stearate, Silicon Dioxide; Thiamine Hydrochloride (Vitamin B1); Riboflavin (Vitamin B2); Pyridoxine Hydrochloride (Vitamin B6); Cyanocobalamin (Vitamin B12). Bottle: Water; Fructose; Royal Jelly; Honey; Pollen Fluid Extract; Concentrated bilberry juice 0.4%; Aroma; Acidity regulator: Phosphoric Acid;; Sweetener: Steviol Glycosides; Preservatives: E202, E211.