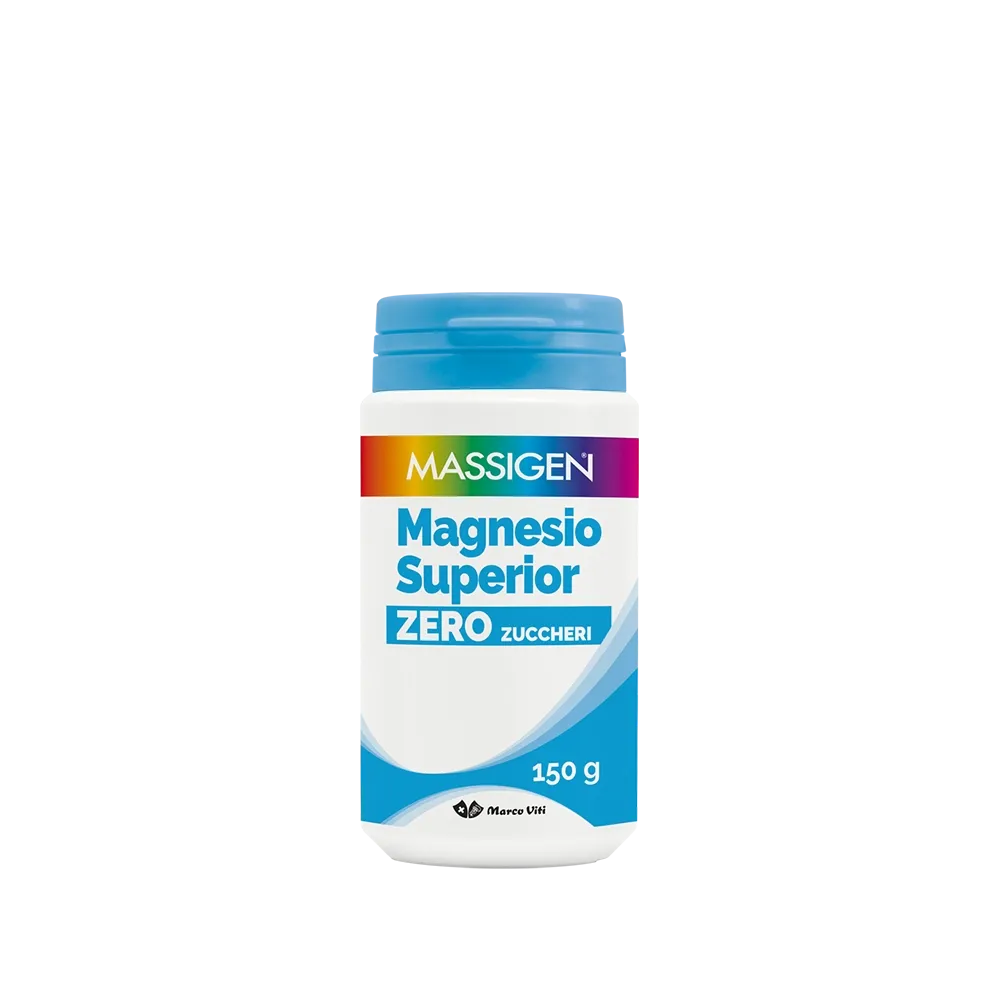 Magnesium Superior Sugar Free
Massigen Magnesium Superior is a magnesium dietary supplement that helps integrate dietary deficienciesor increased requirements. Sweetened with stevia.
  why?
The properties of Magnesium approved by the European Food Saferty Authority: contributes to cell division and energy metabolism; contributes to normal muscle function; contributes to normal nervous system function; contributes to normal protein synthesis; contributes to maintenance of normal bones and teeth.
  content
Total net weight 150 g ℮ or total net weight 300 g ℮
  without
Gluten free, Sugar free, lactose free.
   benefits
Magnesium can be useful in various ways: it contributes to normal functioning of muscle cells, of the nervous system and of energy metabolism.
  use
Dissolve 1 teaspoon of product in hot water, equal to 2.4 g. Before taking wait for effervescence to finish and for solution to be clear. We recommend taking 2 teaspoons per day.
   warning
If taking medicines containing tetracyclines or quinolones take the product two hours before or five hours after taking the drugs. Do not take along with vitamin D3 (cholecalciferol). Do not exceed the recommended daily dose. We do not recommend using the product during pregnancy or breastfeeding.
If taking over a long period or in the case of kidney problems or tumours of the parathyroid glands, please contact your doctor. Keep out of reach of children under three years of age. Supplements should not be used as a substitute for a varied, balanced diet and healthy lifestyle. Keep in a cool place away from heat.
  nutrition facts
AVERAGE CONTENTS
PER 100 G
PER 2 TEASPOONFULS
% NRV
Energy values
279 kCal
1167 kJ

17,8 kCal

74,5 kJ

-
Magnesium
9,09 g
545 mg
145%
  ingredients
Acidulant: Citric Acid; MagnesiumSweetened with stevia. Carbonate; Aroma; Sweetener: Steviol Glycosides.