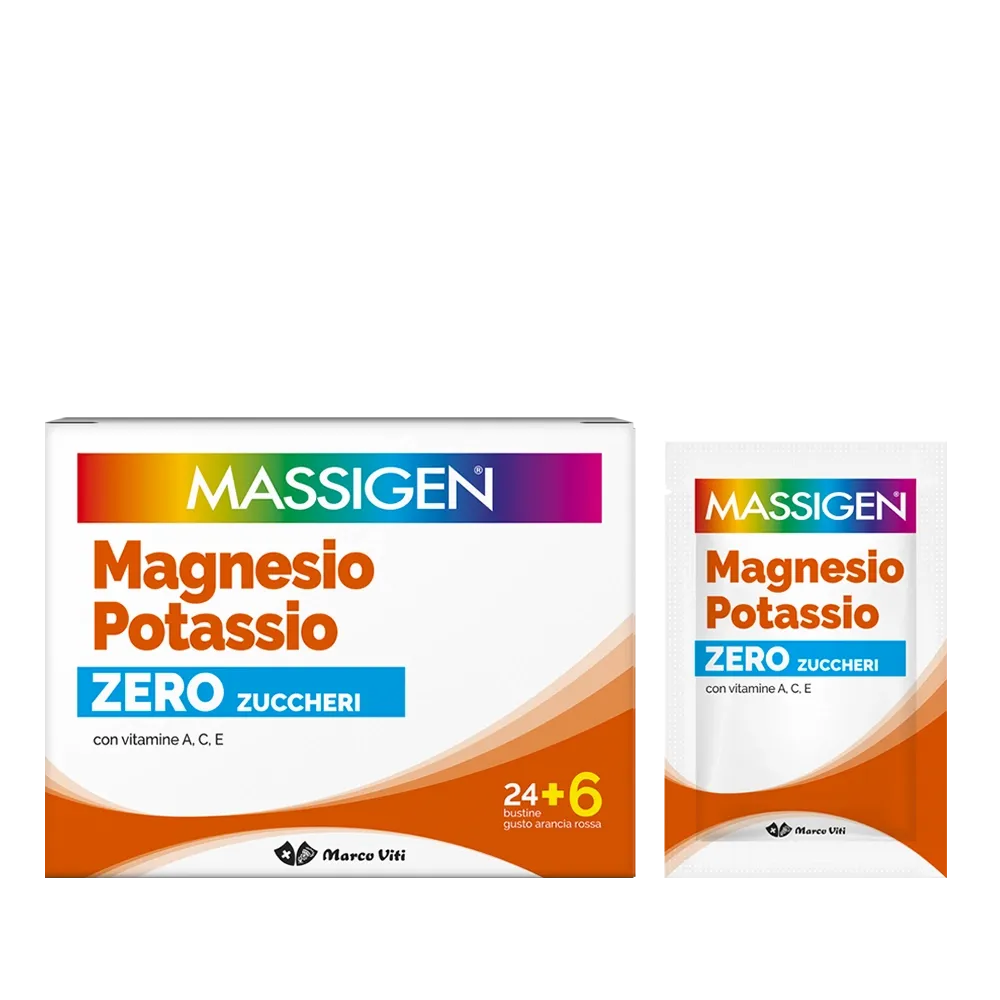 Magnesium and Potassium sugar free
Dietary supplement with mineral salts and sweetener.
Blood orange flavour sachets.
  content
30 single dose 6 g sachets
Total net weight 180 g ℮
  without
Gluten free and lactose free.
   when
Recommended for all conditions where there is a lack of magnesium and potassium due to low dietary intake, intense physical activity, increased need.
   benefits
It provides vitamins C and E, which combat free radical damage. Ideal as a low-calorie supplement.
  use
Dissolve the contents of a sachet in a glass of water (about 150 ml) and drink immediately. The formula, low in Vitamin A, allows an intake of 3 sachets per day, at mealtimes, even for pregnant women, as it respects the recommended limits (LARN - Italian recommended daily limits), in the absence of other sources of vitamin A. If pregnant consult your doctor before taking. Children aged 7-10: 1 sachet per day.
   warning
Do not exceed the recommended daily doses. If taking over a long period or in the case of kidney problems please contact your doctor. Keep out of reach of children under three years of age. Dietary supplements should not be considered a substitute for a varied, balanced diet and a healthy lifestyle. Keep at room temperature. Avoid exposure to to local sources of heat, to sunlight and contact with water. Excessive use may cause laxative effects.
  nutrition facts
AVERAGE CONTENTS
FOR 100 G
FOR 1 SACHET 6 G
PER 3 SACHETS 6 G
%NRV (3 SACHETS)

Energy

values

22 kCal

90,3 kJ

1 kCal

5,4 kJ

4 kCal

16,3 kJ

-

Carbohydrates

of which sugars

80,8 g

0,12 g

4,8 g

7,2 mg

14,5 g

21,6 mg

-
Proteins
0 mg
0 mg
0 mg
-

Fats
of which saturated

0 g
0 g

0 g
0 g

0 mg
0 mg
-
Salt
1 g
60 mg
180 mg
-
Magnesium citrate
of which Magnesium
4,0 g
625,0 mg
242,8 mg
37,5 mg
728,4 mg
112,5 mg
30%
Potassium citrate
of which Potassium
4,6 g
1,7 g
276,6 mg
100,0 mg
829,8 mg
300,0 mg
15%
Vitamin C
1,000 g
60,0 mg
180,0 mg
225%
Vitamin E
0,050 g
3,0 mg
9 mg
75%
Vitamin A
2,5 mg
0,15 mg
0,45 mg
56%
  ingredients
Sweetener: Erythritol; Acidulant: Citric Acid; Potassium Citrate; Magnesium Citrate; Aroma; Vitamin C (L-Ascorbic Acid); Sodium Chloride; Sweetener: Sucralose; Vitamin E (D-Alpha Tocopheryl Acetate); Colouring: Beta-Carotene; Vitamin A (Retinyl Acetate).