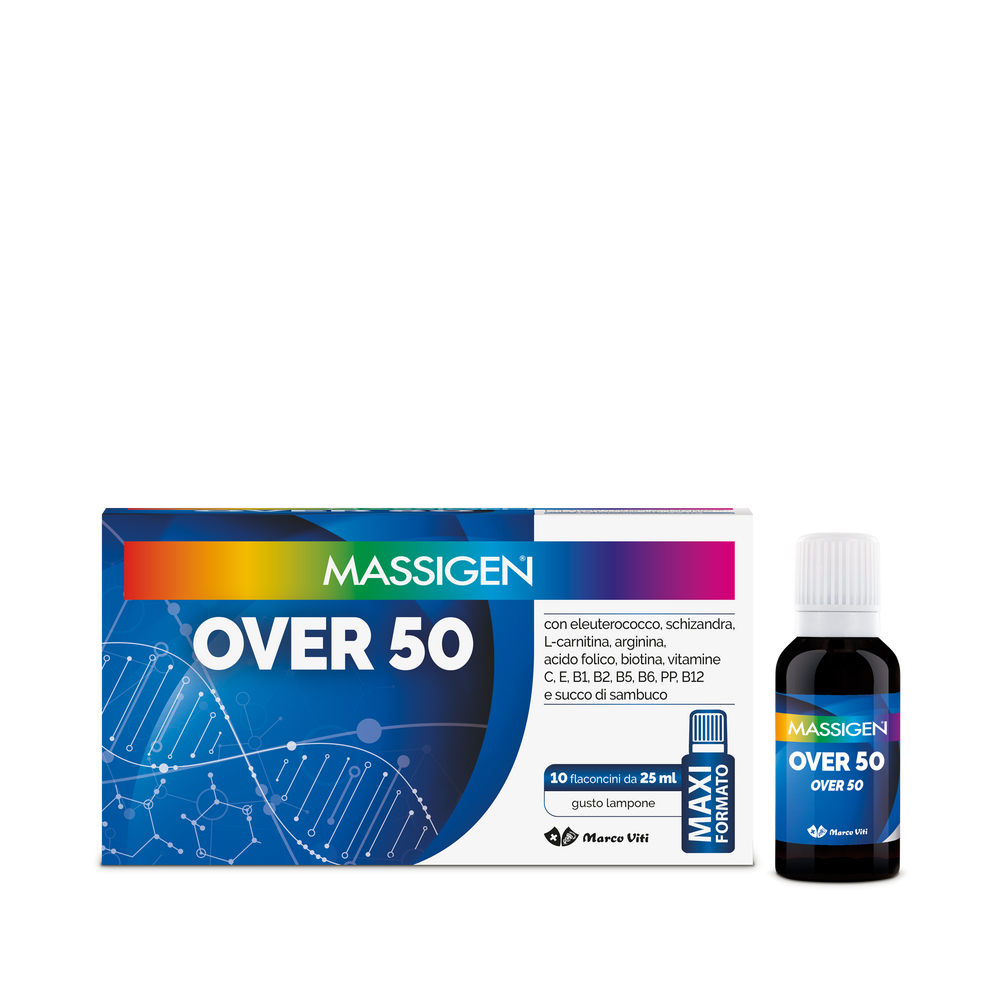 Massigen Over 50
Dietary tonic supplement with eleutherococcus, schizandra, L-carnitine, arginine, L-theanine, folic acid, biotin, vitamins C, E, B1, B2, B5, B6, PP, B12 and elderberry juice. Raspberry flavour.
  why?
For people over 50 years of age looking for a supplement to promote better physical and/or mental activity.
  content
Ten 25 ml ℮ bottles with reservoir cap. Total net content 250 ml.
  without
   when
Carefully formulated with selected ingredients, specifically for the over 50s.
   benefits
It contains fluid extract of eleutherococcus with adaptogenic-toning properties that may help physical activity, vitamins PP and B12 to help reduce tiredness and fatigue. Fluid extract of schizandra has adaptogenic-toning properties that may help mental activities, vitamins B1 and B6 help normal psychological functioning. Carnitine is a molecule naturally present in our cells that plays a key role in metabolising fat for the production of energy. The formula is enriched with L-Theanine, arginine and vitamins C and E. Massigen OVER 50 is suitable for diets with an insufficient amount of these nutrients or when there is an increased need for them.
  use
We recommend drinking 1 bottle a day on an empty stomach.
   warning
Do not exceed the recommended daily dose. Keep out of the reach of children under three years of age. Once the reservoir cap is open, shake thoroughly before drinking. Any deposit found is a natural characteristic of the product. We recommend storing the product in a cool place. Supplements should not be used as a substitute for a varied, balanced diet and healthy lifestyle.
  nutrition facts
INGREDIENT
CONTENTS PER 100 ml OF PRODUCT

CONTENTS PER DAILY DOSE

(1 reconstituted bottle)

% NRV
Vitamin C
0,32 g
80 mg
100%
Vitamin B1
4,4 mg
1,1 mg
100%
Vitamin B2
5,6 mg
1,4 mg
100%
Vitamin B6
5,6 mg
1,4 mg
100%
Vitamin B12
4,0 µg
1,0 µg
40%
Vitamin B5
24 mg
6 mg
100%
Vitamin PP
64 mg
16 mg
100%
Vitamin E
19,2 mg
4,8 mg
40%
Folic Acid
0,4 mg
0,1 mg
50%
Biotin
200 µg
50 µg
100%
Schizandra Fluid Extract
4,0 g
1,0 g
-
Eleutherococcus Fluid Extract
6,0 g
1,5 g
-
L-Theanine
0,2 g
50 mg
-
L-Carnitine
0,8 g
0,2 g
-
Arginine
0,4 g
0,1 g
-
  ingredients
Reservoir cap: maltodextrin; L-ascorbic acid (Vitamin C); Nicotinamide (Vitamin PP); DL-Alpha Tocopherol (Vitamin E); Corn Starch; Calcium D-Pantothenate (Vitamin B5); Pyridoxine Hydrochloride (Vitamin B6); Thiamine Hydrochloride (Vitamin B1); Cyanocobalamin (Vitamin B12); Riboflavin (Vitamin B2); Pteroylmonoglutamic Acid (Folic Acid); D-Biotin; Anti-caking agents: Magnesium Stearate, Silicon Dioxide. Bottle: Water; Fructose; Eleutherococcus (Eleutherococcus senticosus (Rupr. Et Maxim.) Maxim) root fluid extract; Schizandra (Schisandra Chinensis (Turcz.) Baill.) fruit fluid extract; L-Carnitine Tartrate; L-Arginine Aspartate; L-Theanine; Elderberry concentrated juice 0.6%; Aroma; Acidity regulator: Citric Acid; Sweetener: Sucralose; Preservatives: E202, E211; Thickening agent: Xanthan Gum.