Work, study, family commitments: to give you a lot of energy at times when you need it most, there are the Massigen Tonics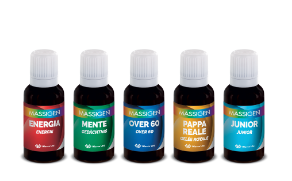 25 ml Maxi Format: more product, more energy. And above all an increase in the concentrations of the functional active ingredients and the inclusion of new specific substances, for an increasingly targeted action for different needs. Needs also include safety requirements, such as gluten-free and lactose-free products.
The new tonic line is dedicated to the vitality and psychophysical well-being needs of adults (Mind and Energy), children and teenagers up to 14 years of age (Junior), children, and also the elderly (Royal Jelly). Besides, there is a new tonic specifically designed for the Over 60.